The Big D & Bubba Show!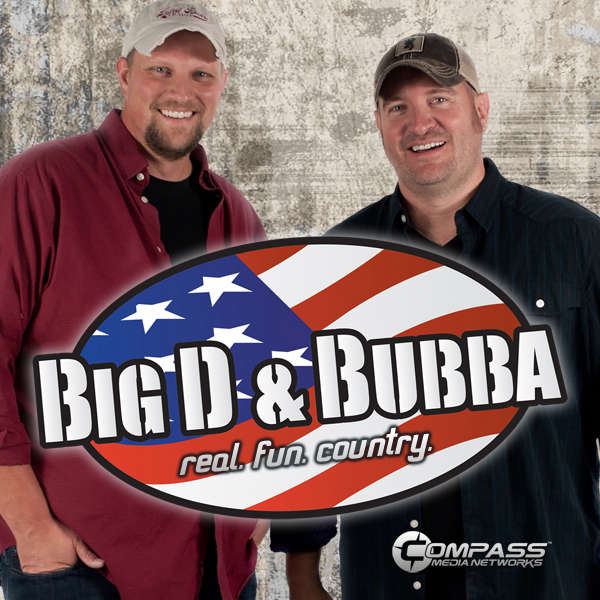 Big D started in radio when Big D was 14 years old at a 1000-watt Christian radio station in Cookeville, Tenn. By the age of 17, hosted his first talk show, which led to his morning gig on an oldies station in the same city.
First country radio experience was he was 19 in Billings, Montana, where he fell in love with the country lifestyle.
Met his wife Kathy in Billings. Big D and Kathy have two sons, Zak and Gunner.
Something that you may be surprised to learn; In high school he was an Exchange Student, and spent time in Russia...before the wall fell....when it was still Communist! Talk about crazy! Seeing that, and the way that the poor people of Russia lived and suffered under that regime really helps solidify his love for the Good 'Ol USA.
A private airplane pilot, and a big aviation buff, you can usually find him tinkering around the hangar messing with the plane when he's not on the radio.
At 14 years old, Bubba became a disc jockey at the local radio station in his hometown of Houma, LA.
Ever the nomad at heart, he went on to use radio to travel the world and worked at stations in places such as Guam and Tokyo. While working in those cities, I was able to travel extensively to countries & cities in Asia, Australia, and the South Pacific. Eventually homesick, he returned to the U.S. Trust Bubba, it happens to anyone who lives overseas for too long. You NEED America! Lol…
Other markets on his radio resume' include: Saginaw, Detroit, Michigan, Nashville, and El Paso, Texas. Other radio stints in various formats from Talk and Hip-Hop, to Rock & Classic Rock, in markets such as Reno, Nevada, Miami, Florida, New Orleans and Baton Rouge.
Bubba met his wife Stacey in Baton Rouge. Currently, they have three children (Olivia, Ava, and Frank).
A huge Frank Sinatra fan and a self professed "car-nerd" who uses free time to get behind the wheel. And, just like Big D...I too am also a private airplane pilot.
OUR PODCASTS