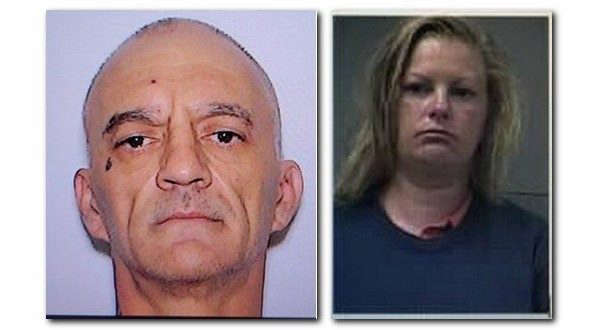 Photo courtesy KTLO
The search for suspects in a Boone County Shooting is now a search for murder suspects.
Tim Blackburn, the victim of the Thursday morning shooting, succumbed to his injuries according to information released via Facebook from the Boone County Sheriff's Office. In that post, Sheriff Tim Roberson states that several sightings of 49-year-old Jason Stockstill and 38-year-old Heather Scallion have reported around the Grinders Ferry. In another post, Searcy County Sheriff Kenny Cassell says he and other officers located and pursued the suspect vehicle containing Stockstill and Scallion near St. Joe which eventually led to Grinders Ferry where the suspects fled on foot.
Roberson says the search efforts consist of utilizing personnel from multiple agencies, K-9's and air support. Officers have also responded to a number of possible sightings reported from surrounding counties but there have been no confirmed sightings since the initial pursuit to Grinders Ferry.
People who may have information on the shooting suspects are urged to contact law enforcement. Anonymous tips can be submitted through the Boone County Sheriff's Department website located at www.boonesheriff.com or by calling 870-741-8404. Contact information for the Searcy County Sheriff's Department is 870-448-2340.
(Information for this story also provided by KTLO and Ozarks First)