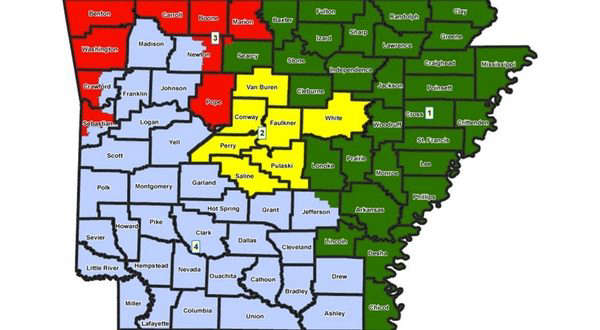 Photo courtesy KTLO
Several proposals have been filed for the redistricting of Federal Congressional Seats in the State of Arkansas.
Currently, the majority of the Lakes Region is in the 3rd District represented by Republican Steve Womack. While two of the three proposals would keep the majority of the area in the 3rd District, the proposal put forth by Representative Nelda Speaks would move Boone and Marion Counties along with the sections of Newton and Searcy Counties currently in the 3rd District to the 1st District.
Another proposal filed by State Senator Mark Johnson would add all of Madison, Newton, and Searcy Counties to the 3rd District while yet another proposal by State Representative Jack Ladyman would keep Boone in the 3rd District but move Marion to the 1st.
The proposal are to be considered at a Special Session of the Arkansas State Legislature later this year.
More details can be found with a full breakdown by Scott Liles on the KTLO Website.